Sword Art Online
ソードアート・オンライン
Genre: Sci-fi, Fantasy
Adaptation: Light Novels, Manga
Aired: Jul 8 / 2012 - Dec 23 / 2012
In the near future, a Virtual Reality Massive Multiplayer Online Role-Playing Game (VRMMORPG) called Sword Art Online has been released where players control their avatars with their bodies using a piece of technology called Nerve Gear. One day, players discover they cannot log out, as the game creator is holding them captive unless they reach the 100th floor of the game's tower and defeat the final boss. However, if they die in the game, they die in real life. Their struggle for survival starts now...
Trailer
P. S. I watched this in Japanese dub / English sub. English dub sounds absolutely ridiculous to me so I prefer Japanese dub.
Opening & Ending Song
Sword Art Online arc
Alfheim Online arc
This anime has two pairs of opening/ending songs. It has one for each arc. I love both opening songs but felt like the ending songs are slower and more peaceful. You can open it on YouTube to watch!
My Thoughts
Before we get started, I just want to let you know that this anime can substitute for the light novel version of SAO. This goes over the plot of volume 1 to 4 and a third of volume 8. A chunk of the plot line from volume 4 is missing from this book though.
Sword Art Online is basically a death game. The creator, Akihiko Kayaba, traps all the players inside the game on the launch day. The only way they can get out is to clear the whole game (which has 100 levels). On each floor, there's a boss room with the boss inside. If they defeat the boss, they get to proceed to the next floor. The catch is that if you die in the game, you die in real life. The game system they wear on their head, NerveGear, would send a shock wave to the brain and they would die from it.
I love this world of virtual reality. The drawings are all so detailed and we can see how different each floor is. Like the image of the castle above, Aincrad. It's beautiful isn't it? Here are some pictures: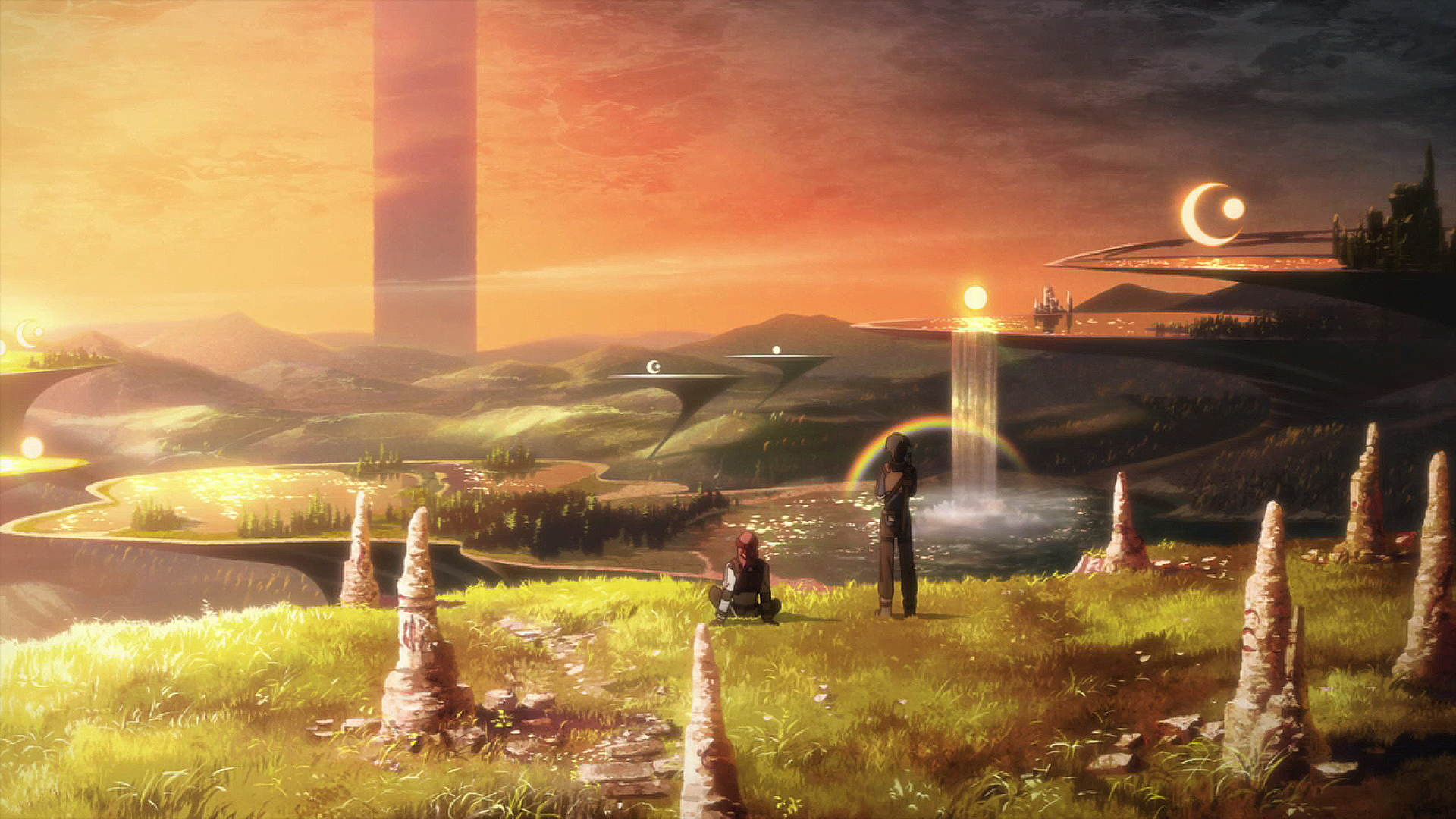 The world of Sword Art Online is absolutely wonderful and the plot is fast. It's never boring and there's always something happening. We get to see Kirito go through his adventure and how he's determined to survive. The anime puts all the events from the light novels in chronological order so you won't get confused. When I re-watched this though, I found that some episodes aren't really all worth watching. One problem I did have with SAO is the romance. The romance between Kirito and Asuna developed way too fast and it doesn't seem real. In the game, they've only met each other once or twice before Asuna invited him to her house. There was no development of relationship of any kind. They just fall in love in 2 episodes. It's kind of harem too (where all the characters of the opposite sex likes that one person). Kirito is described as a female-looking boy that is anti-social. How does that translate to being a lady's man? Literally, four girls have fallen in love with him in this anime.
On another note, the ending to SAO is absolutely fantastic and it transfers well into the anime's second arc, Alfheim Online. Unlike Sword Art Online where it's focused on levels and what type of warrior you are, Alfheim Online is more focused on abilities and what type of tribe you belong in. With different tribes, you have different kinds of magic. Did I mention you get to be a fairy, too?
Sword Art Online is practically genius and one of the best anime I've watched in a while. But after episode 14, it goes into this other virtual reality world called Alfheim Online. And the plot sucked. Majorly. After the exciting adventure in SAO, I don't understand how Alfheim Online can be this bad. It's still good, but pales a lot in comparison to SAO. The plot line wasn't as good and there wasn't that drive to survive. It's not just in anime, it's in the light novels as well. The Alfheim Online arc just wasn't as strong as Sword Art Online. Alfeim Online turns really boring and I just couldn't wait for it to end and for Kirito to save Asuna. The whole season did end on a happy note, which is a plus.
That concludes my review and I'll leave you some more pictures!
Hopefully, they would make a second season. The second season would have the third arc, Gun Gale Online. GGO is possibly the strongest arc in the whole series. I've yet to read the light novels for the fourth arc but I'll get on that soon. Expect my reviews for GGO sometime!
Rating: