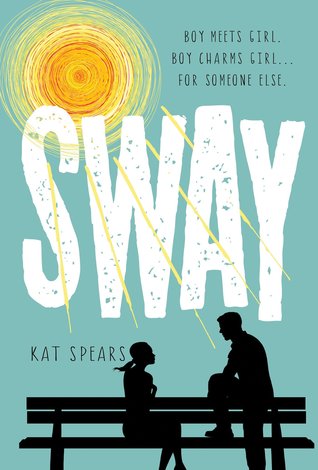 Sway by Kat Spears
Genre: YA Romance, Contemporary
Release Date: Sept 16 / 2014
Publisher: St. Martin's Griffin
In Kat Spears's hilarious and often poignant debut, high school senior Jesse Alderman, or "Sway," as he's known, could sell hell to a bishop. He also specializes in getting things people want---term papers, a date with the prom queen, fake IDs. He has few close friends and he never EVER lets emotions get in the way. For Jesse, life is simply a series of business transactions.

But when Ken Foster, captain of the football team, leading candidate for homecoming king, and all-around jerk, hires Jesse to help him win the heart of the angelic Bridget Smalley, Jesse finds himself feeling all sorts of things. While following Bridget and learning the intimate details of her life, he falls helplessly in love for the very first time. He also finds himself in an accidental friendship with Bridget's belligerent and self-pitying younger brother who has cerebral palsy. Suddenly, Jesse is visiting old folks at a nursing home in order to run into Bridget, and offering his time to help the less fortunate, all the while developing a bond with this young man who idolizes him. Could the tin man really have a heart after all?

A Cyrano de Bergerac story with a modern twist, Sway is told from Jesse's point of view with unapologetic truth and biting humor, his observations about the world around him untempered by empathy or compassion---until Bridget's presence in his life forces him to confront his quiet devastation over a life-changing event a year earlier and maybe, just maybe, feel something again.
*A copy was provided by the publisher for an honest review*
Thank you to Raincoast Books!
I think Kat Spears is now on my list of "I will read any books these contemporary authors write". Yep, Sway is that good. It really impressed me.
I think what made this book that amazing was the narrator, Jesse "Sway" Alderman. Jesse is the kid you go if you have any problems. If you owe him a favour or got money to spend, he can anything done for you. He's described by the rumour mill as a very persuasive person. He's a very cynical person and I find that very interesting. He's different from most of those charming or bad boy type guys. Jesse can probably have his own category haha!
Then Bridget comes along. I finally got to see Jesse crack just a little. Staring as an unemotional guy who doesn't give two sh*ts about anything, he starts to have feelings toward Bridget and that really changes his worldview a lot. Don't worry, though. Jesse is still as sarcastic as ever with his heart softened just a tiny bit.
There are a lot of book quotes that I loved from this book (this is amazing because I never really mark down quotes). I even wrote a page full of them in my agenda! I'll just choose one that really sums up Jesse's personality:


"Nothing is either good or bad," I said, "but thinking makes it so."
- Sway by Kat Spears (eARC)
Sway by Kat Spears is definitely one of the best contemporaries I've read in a while. Jesse's cynical personality and his tendency to speak the most breaking truths makes him an excellent and refreshing narrator. It was amazing to see how he turned from an uncaring boy broken by an event a year ago to the boy he is at the end.
Rating: