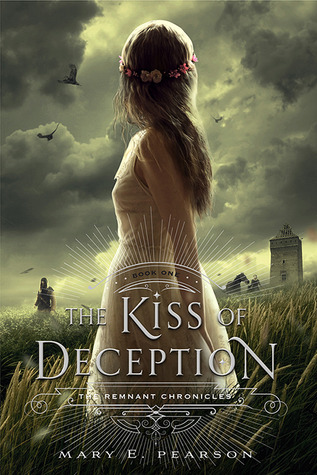 The Kiss of Deception by Mary E. Pearson
Genre: YA Fantasy, Romance
Series: The Remnant Chronicles #1
Release Date: Jul 8 / 2014
Publisher: Henry Holt
A princess must find her place in a reborn world.

She flees on her wedding day.

She steals ancient documents from the Chancellor's secret collection.

She is pursued by bounty hunters sent by her own father.

She is Princess Lia, seventeen, First Daughter of the House of Morrighan.

The Kingdom of Morrighan is steeped in tradition and the stories of a bygone world, but some traditions Lia can't abide. Like having to marry someone she's never met to secure a political alliance.

Fed up and ready for a new life, Lia flees to a distant village on the morning of her wedding. She settles in among the common folk, intrigued when two mysterious and handsome strangers arrive—and unaware that one is the jilted prince and the other an assassin sent to kill her. Deceptions swirl and Lia finds herself on the brink of unlocking perilous secrets—secrets that may unravel her world—even as she feels herself falling in love.
*A copy was provided by the publisher for an honest review*
Thank you to Raincoast Books!
The Kiss of Deception was very weird. There was one big plot twist in the middle that really surprised me (it might've been just me though). I'll talk more about that later. Anyways, this book is pretty good. The story revolves our narrator the princess, the prince, and the assassin.
The book is told mostly in Lea's view but also in the Prince's and the Assassin's views. Once Lea escaped from her marriage, she settled down in a town. There, she meets two handsome strangers, the Prince and the Assassin. You don't get to know who is who; I was wrong. I thought I had it all figured out but NOPE.. mind-blown.
I can't really decide if the love triangle was good for the book or not. I mean, who doesn't want to be surrounded by more hot guys? But does it even count as a triangle when she only really likes one of them (like no doubt in her mind)? For the plot to move along, the romance had to happen. Both the Prince and the Assassin were torn between their love and their duties.
I think I'm just a little bit disappointed with this book. I thought it would be phenomenal (hello, over 4 stars on goodreads!), but it was okay. I also had a friend telling me this book was terrible, so it kind of evened the hype out. I think this book could go somewhere interesting with the sequel. With that ending, I can't wait to find out what happens next!
Rating: