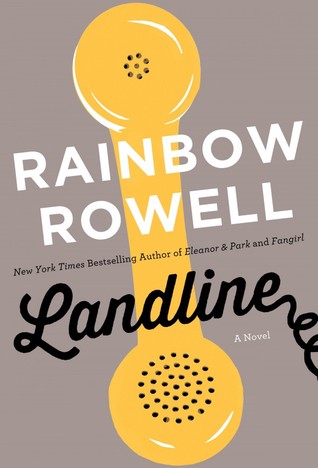 Landline by Rainbow Rowell
Genre: Adult Romance
Release Date: Jul 8 / 2014
Publisher: St. Martin's Press
Georgie McCool knows her marriage is in trouble. That it's been in trouble for a long time. She still loves her husband, Neal, and Neal still loves her, deeply — but that almost seems beside the point now.

Maybe that was always beside the point.

Two days before they're supposed to visit Neal's family in Omaha for Christmas, Georgie tells Neal that she can't go. She's a TV writer, and something's come up on her show; she has to stay in Los Angeles. She knows that Neal will be upset with her — Neal is always a little upset with Georgie — but she doesn't expect to him to pack up the kids and go home without her.

When her husband and the kids leave for the airport, Georgie wonders if she's finally done it. If she's ruined everything.

That night, Georgie discovers a way to communicate with Neal in the past. It's not time travel, not exactly, but she feels like she's been given an opportunity to fix her marriage before it starts...

Is that what she's supposed to do?

Or would Georgie and Neal be better off if their marriage never happened?
*A copy was provided by the publisher for an honest review*
Thank you to Raincoast Books!
Landline is written by Rainbow Rowell so when I heard about it, I knew I have to pick it up. I loved both Eleanor & Park and Fangirl so I knew that I would like Landline as well.
I think Landline is quite different from Rowell's other books that I've read. I guess this makes sense since it's geared towards adults. Things aren't as cute or fluffy but they're more mature and dealing with real relationship problems. The main protagonist is Georgie McCool. I just gotta say first that the name McCool is pretty dang awesome. The story is all about Georgie figuring out how to fix her relationship with her husband Neal and the possibility of changing the past through a magic phone.
The book is really about Georgie getting to know herself, learning what she wants, and thinking about what can possibly be the best for both her and Neal. It's not like the usual adorable YA contemporary I usually read, so I think this type of book is really nice for a change.
You might think the book sounds very serious from what I've described so far but it's not. There's plenty of humour, tears, joyful moments, etc. My favourite character is Seth. He is Georgie's best friend and they work together to create comedic shows. Seth and Georgie together are hilarious. Neal, Georgie's husband, is more of a down to earth type of guy. Seth and Neal are really opposites.
If you love Rainbow Rowell books or you're just a fan of contemporary books, be sure to give Landline a try! It's a bit different from most YA romance books, taking a more serious but still humourous tone. It had a sweet ending and I wouldn't have it any other way.
Rating: